Steinway M-170
At 170 cm in length, this piano's rich tone and responsive action is found not only in a great many homes, but in many schools of music and conservatories as well. Called the "Medium" grand, there is nothing medium about the sound from this instrument.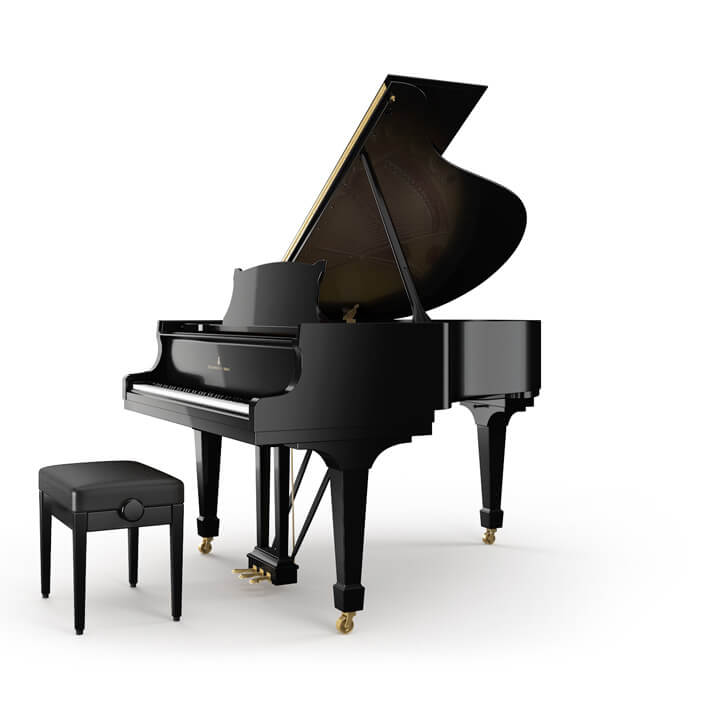 The colours displayed by the monitor may differ from the original.
| | |
| --- | --- |
| Width: | 146,5 cm |
| Length: | 170 cm |
| Weight: | 281 kg |
STEINWAY M-170 — OUR MEDIUM SIZED GRAND — SONOROUS AND FLEXIBLE
With the Steinway M-170, its designation is "medium", but not its sound. This piano's rich tone, responsive action and manageable size makes it perfect for conservatories and many homes for those pianists who desire the inimitable Steinway sound, perfect touch and finest craftsmanship and largest grand in the space available to them.
The Steinway Model M grand piano gives your piano playing a character all of its own with surprising flexibility.
THE STEINWAY M-170 — PURE MUSICAL PLEASURE
Anyone who plays the Model M will be delighted by its sensitive action and unmistakable Steinway sound. Our M grand piano is flanked by the slightly longer O-180 and our smallest grand piano, from the S-155. All three grand pianos have the same construction basis, action and keyboard.
"I always play with immense pleasure on the wonderful Steinway grand pianos."

Jean-Yves Thibaudet

Steinway Artist
Thank you! Your message has been sent. You will hear from us shortly.