Steinway D-274
At 274 cm in length, this majestic musical instrument is the overwhelming choice of the world's greatest pianists. This concert grand will completely satisfy those who desire the highest possible level of musical expression.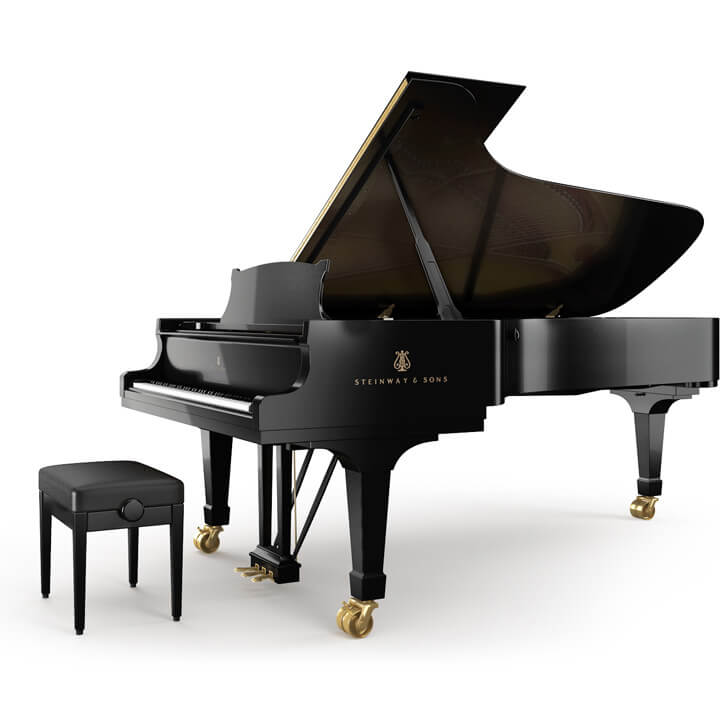 The colours displayed by the monitor may differ from the original.
| | |
| --- | --- |
| Width: | 157 cm |
| Length: | 274 cm |
| Weight: | 500 kg |
THE CONCERT GRAND - STEINWAY D-274
This majestic musical instrument — the pinnacle of concert grands — is the overwhelming choice of the world's greatest pianists and for anyone who demands the highest level of musical expression. The Model D fills the room with musical power and warmth. Submit your inquiry for a Steinway D-274 here and we will get in touch with you as soon as possible.
THE STEINWAY D-274 — THE PREMIER PIANO IN THE WORLD'S HALLS
The Steinway D-274 is unchanged in its architecture since 1884. Lang Lang, Daniel Barenboim and Christoph Eschenbach are just three of more than 2,500 Steinway artists worldwide who rate the Steinway Model D their first choice. (The C-227 offers a smaller concert grand version.)
STEINWAY D-274: AN INVESTMENT FOR LIFE — AND FOR YOUR FAMILY
Concert grand pianos from Steinway & Sons stand for longevity and a musical experience that lasts for generations. Becoming a Steinway owner enters you into our rich tradition of craftsmanship and customer care.
TOP-CLASS CONCERT GRAND PIANO
With a D-274 you acquire a premier concert grand piano for your personal stage and gain a heretofore unimaged level of musical expression. Your unique instrument is also a valuable investment and family heirloom. Musical perfection, beauty and durability: this is the chord we tune for you.
CRAFTSMANSHIP OF THE HIGHEST QUALITY
As piano music is heard with ears and heart, our instruments are crafted with hands and heart. Each Steinway is unique, made up of 12,000 parts, each of the highest quality and assembled with the greatest skill to exacting standards.
The Steinway Model D is also available as the Steinway Spirio, the world's finest high resolution player piano.
STEINWAY D-274 HIGHLIGHTS:
Its rim consists of up to 20 layers of maple and mahogany, pressed together to provide the structural integrity that enables a Steinway piano to endure for generations. The unique rim construction was patented by Steinway & Sons in 1878.
The rim forms a solid foundation with five solid pine beams — the prerequisite for decades of durability.
The strings are made of the high-tensile Swedish steel in the treble and are additionally coated with pure copper in the bass range. They are installed in the Steinway cast iron metal plate, patented in 1886, with string tension of over 20,000 kilograms at all times.
The patented Model D diaphragmatic soundboard achieves optimum performance in dynamic range and maximum sustain.
'As soon as you start playing a Steinway D, you play differently. It is a completely different animal, and owning it is a privilege.'

Mitsuko Uchida

Steinway Artist
Thank you! Your message has been sent. You will hear from us shortly.