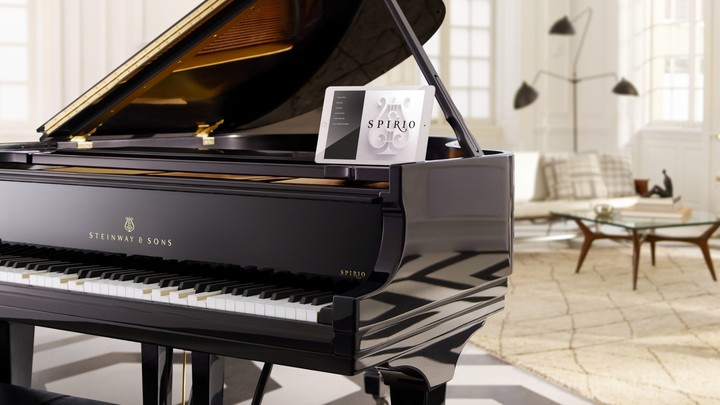 Steinway Spirio fascination
Turn your living room into a concert hall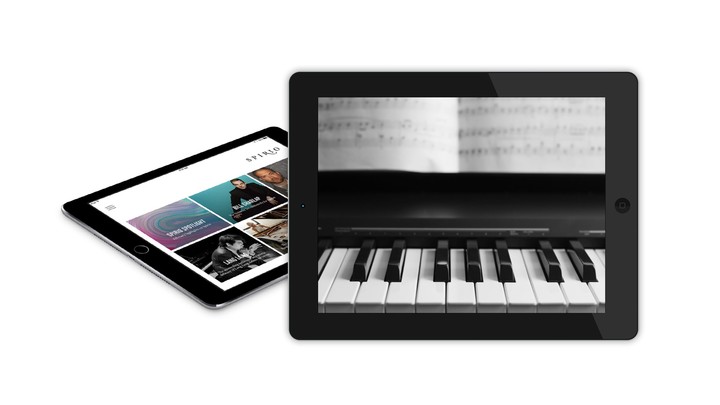 Steinway Spirio
Your box seat transported to your home
Steinway Spirio - Turn your home into a concert hall
Would you like to invite Yuja Wang to your home? Discover Steinway Spirio!
Steinway Spirio is the first high-definition self-playing system that lives up to the Steinway & Sons name. This masterpiece combines precision, technology and craftsmanship to create the first and only musical experience of its kind. A simple touch of your iPad® is all that is required for Spirio to fill your Steinway with life.
Thousands of recordings from world-leading Steinway Artists are waiting to be discovered. Look forward to a high-class Spirio music library featuring works that have been recorded in the finest quality in the special Steinway Studios, with additional recordings being added automatically every month. From Bach to George Gershwin and Billy Joel; wether cassic, jazz or pop, boogie woogie or soul; from Tchaikovsky to the Beatles, Coldplay and Adèle: you yourself decide.
Of course you also use Spirio as a regular Steinway grand piano. Play it yourself or have it play for you – you decide how it is done.
Inspiration and technology
Spirio authentically renders the wealth of nuance and the passion of the artist by making use of special software designed to measure hammer speed (up to 1,020 dynamic levels at a speed of up to 800 signals per second) and positions of the damper pedal (up to 256 pedal positions at a speed of up to 100 signals per second). Be it a soft trill, precise pedal movements or thunderous fortissimi – Spirio masters them effortlessly while closely embodying the emotional and technical breadth of the pianist.
A world-class music library
The Spirio app for iPad® connects you with hundreds of performances and brings your Steinway grand piano to life. The exclusive Spirio library is regularly updated automatically and offers everything from J. S. Bach to Irving Berlin and Billy Joel, and unlocks the full playing potential of your grand piano no matter your skill level.
The model B-211 is a magnificent grand piano which is often referred to as "the perfect piano". It is a wonderfully balanced and versatile piano that does extremely well in intimate settings, teaching studios and mid-sized venues.

Length: 211 cm
Width: 148 cm
Weight: 354 kg

more
Thank you. Please click the button below to download the PDF.
Spirio Questions & Answers
Is the Steinway Spirio Available on all Steinway & Sons Models? Can Pianos be Retrofitted?
The Steinway Spirio is installed in a Steinway Grand Piano at the time of manufacture by Steinway artisans and existing pianos cannot be retrofitted. Available with the Spirio system are the Steinway Grand Piano Model B and Model O.
How Does the Steinway Spirio System Differ from Other Player System Pianos?
Steinway & Sons is recording at the highest resolution possible, and has created a data file format that captures the nuances and full range of emotion from each artist's performance.
This superior level of playback is made possible through a combination of proprietary high-resolution recording technology, and the Steinway Spirio's ability to replicate smaller increments of velocity on both the hammers and proportional pedaling. The fact that the recordings are recorded and played on a Steinway & Sons piano exponentially increases the differences in performance quality when compared to existing products.
How do Users Purchase Music for the Steinway Spirio? Is There a Difference Between Other Systems?
Steinway & Sons will not offer low-resolution MIDI files (like pothers do) for the Steinway Spirio to ensure an uncompromised experience. Steinway Spirio users can access the music through the Steinway & Sons App on their iOS device (an iPad comes with Steinway Spirio at the time of purchase). There is no extra fee and nothing to download since the music catalogue lives on the App. New music will be continually added to the Steinway Spirio library and seamlessly updated on users' iPads, ensuring they always have the most current collection of available Steinway Spirio music.
What Music Will be Available for the Steinway Spirio?
Music will be recorded in the highest possible resolution, across music genres, enabling customers to experience the fullest extent of their Steinway Spirio's unique capabilities. Spirio will include select performances from historic artists like Glenn Gould, Sergei Rachmaninov and Art Tatum as well as Lang Lang, Yuja Wang, Billy Joel, Coldplay, Adele and many others great Pianists.