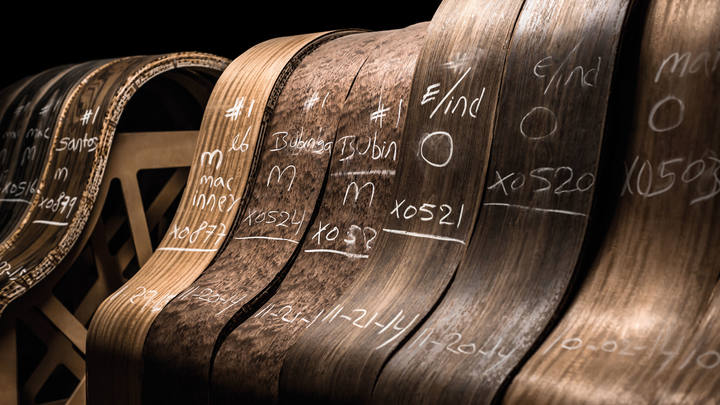 The Rim
A piano's outside cabinetry is known as the case, and it is often the piano's most visual feature. A high-quality case adds beauty, strength and support to the piano. The single most important piece of the case is the rim, which in the finest pianos like a Steinway is made of multiple laminations of hard rock maple and mahogany.
The process of bending our rims completely by hand has taken place in our manufacture for over 140 years, and recent developments in that process have produced a vastly improved piano rim. Within the last ten years, we have made improvements to our rim presses and the conditioning process: new reinforced clamping cauls improve the curvature of the rim; new pneumatic wrenches guarantee the proper amount of glue between laminations; new stabilizers are inserted after the rim has been bent to ensure our rims maintain their optimal shape.
Today's Steinway rim has improved stability, durability, and strength — which together create the distinctive "Steinway Sound". Never before has our rim emboldened our unique diaphragmatic soundboard to vibrate so freely and generate such a magnificent, golden tone.
Continue Learning about the Features of Today's Steinway
A Steinway is a Steinway — for good reasons
To call a genuine grand or upright of Steinway & Sons one's own is an overwhelming feeling. Far more than just an exquisite instrument, it is an instrument of the highest expression and creativity. A Steinway intimately connects artist and listener, and invites its owner to join a tradition of musical perfection, making it an invaluable investment.
Make Steinway's legacy of innovation part of your legacy.
Thank you! Your message has been sent. You will hear from us shortly.