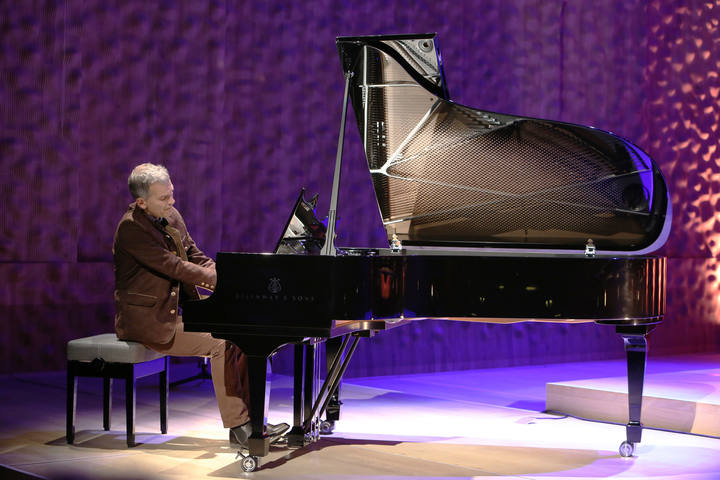 New Steinway & Sons Elbphilharmonie Limited Edition – Fine design for a good cause
Moderator Linda Zervakis kept the audience on tenterhooks on the evening of October 13 before revealing the secret that was the new Steinway & Sons Elbphilharmonie Limited Edition together with an international jazz star. In the company of 360 guests, we celebrated our exclusive new edition of just eight pianos that combine two unmatched icons of Hamburg, which represent music, cultural values, and the finest design in equal measure.
Before the unveiling, the audience was able to enjoy music from two of Hamburg's up-and-coming stars, Volodymyr Lavrynenko and Spartak Margaryan, both students of star pianist Anna Vinnitskaya. This was followed by a musical highlight in the form of a world-class jazz pianist: Brad Mehldau captivated the audience with the magnificent pieces "Dream Brother" and "Blackbird", transporting them virtually from the Kleinen Saal of the Elbphilharmonie – surrounded by walls designed in wave form and made from solid oak – to the bottom of the sea.
After thunderous applause, Brad Mehldau was joined by Linda Zervakis finally for the ceremonious reveal of Model No. 1: The grand piano surprises with its music stand shaped like the Elbphilharmonie, the striking dot pattern of the windows on the inside of the lid, and many other elements relating to the concert hall. The collaboration between Steinway & Sons and the Elbphilharmonie Hamburg goes far beyond the design, however.
20,000 euros from each grand piano sold will go directly to music teaching projects carried out by the Elbphilharmonie Foundation, "in order to fulfil a huge task", explains Steinway's Vice President Guido Zimmermann, saying, "we want to give people the joy of music". The Foundation offers more than a thousand events each year aimed primarily at children and young people, according to Christoph Lieben-Seutter, the director of the Elbphilharmonie, who values the strong link with Steinway and describes the company as "a firm fixture for any fan of classical music".
For Steinway Artist Brad Mehldau too, who was brought on board for this project as a piano patron (link), Steinway grand pianos are unrivalled. They are "singing, warm and open", according to Mehldau. "When I play a Steinway, it plays back at me."
Thank you! Your message has been sent. You will hear from us shortly.