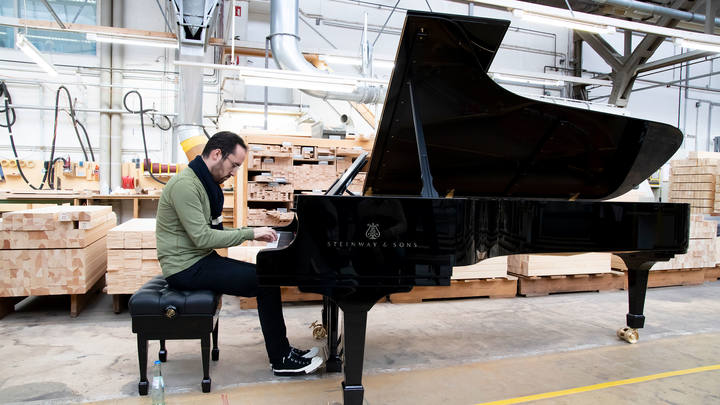 Sonatas in lieu of stockings: A special Christmas gift from Igor Levit
World-class pianist and Steinway Artist Igor Levit plays among the timbers and machines in the "birthplace" of the instrument that is at the centre of his life for the employees of Steinway & Sons in Hamburg.
A glance into the Steinway factory: wooden grand piano parts are spread throughout the enormous space, employees wear ear protection — and tools and machinery whir. There are woodchips, dust and the smell of timber. And in the midst of it all: a gleaming, black-varnished Steinway grand. Around it, a still empty semicircle of benches has been arranged. On December 6, instead of chocolates in a stocking, the Steinway employees enjoyed music from a very special guest: Igor Levit, who says playing for all those people on whom his profession depends is a very serious matter. At noon, the time had finally arrived and pianomakers, carpenters, varnishers and administrative staff left their workplaces and streamed into the factory hall. Levit, who is 31, appeared in fine spirits and greeted his esteemed audience. He promised his listeners "a combination of innocence and recklessness" and began the factory concert with the "neighbouring piece to the Moonlight Sonata," Beethoven's sonata "Quasi una fantasia" (Op. 27, No. 1) in E-flat major. Following these rich sounds, he switched to jazz and captivated the Steinway staff with the emotive Peace Piece. This was created by US jazz pianist Bill Evans, who died in 1980 and whose improvisation Levit conjured on the piano with the help of a transcription. Peace Piece is characterised by a recurring bass which creates a calm atmosphere, accompanied by different motives reaching a "wild birdsong" in the end.
"Music does something to you!" Levit puts it in a nutshell, and his audience in the factory hall was undoubtedly able to confirm this. It was clear how important Levit's listeners are to him, and he remained cool as a cucumber when a sudden whirring broke out in the factory hall. "When the machine started up, the only thought in my mind was: Should I perhaps play a bit louder so that the people at the back can still hear me?" Igor Levit remarked jokingly after the concert.
Enthusiasm and gratitude were also visible on the faces of the two guests who had won their visit through Facebook. They were able to meet the friendly, very genuine Igor Levit in person and to rejoice in tickets for his evening concert in the Laeiszhalle Hamburg.
Following the visit by Igor Levit, his handwritten testimonial will soon hang on Steinway's "Wall of Fame." Thus he joins an illustrious group of other world-class pianists.
Thank you! Your message has been sent. You will hear from us shortly.