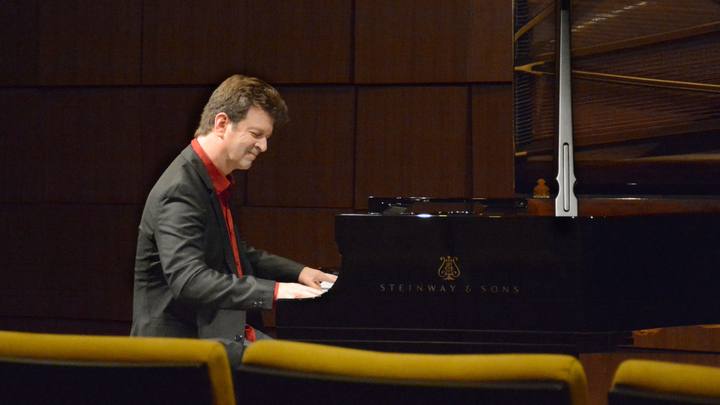 BRILLIANT SONGS
David Rosenthal, Billy Joel`s Longtime Music Director and Keyboardist, on working with and arranging for the piano man.
By Ben Finane
Musical director, keyboardist, producer, orchestrator and touring professional, David Rosenthal's multi-faceted career has taken him to studios and stages across the globe with many of the most prominent artists in the world. Rosenthal has worked with Billy Joel for over a quarter century, serving first as his keyboardist and then adding the role of his musical director. Rosenthal spoke with our Editor in Chief, Ben Finane, on his work with and arrangements for Billy Joel, namely for the Steinway & Sons Spirio, the world's finest high resolution player piano.
How long have you been working with Billy Joel?
I'm with Billy Joel now for twenty-five years. I joined the band in 1993 just before rehearsals for the River of Dreams tour.

What does being Billy Joel's music director entail?
I'm the liaison between him and the band, so if he wants to do a song or make a change to an arrangement he contacts me, I alert the band, then I follow through to make sure everything gets carried out. I'll write horn charts if need be, coordinate background vocals, run rehearsals at sound check, things like that. If he's not there, I lead the band. I make sure everybody's playing the right chords, the right parts, those types of things.
We don't rehearse very often because we've been doing this for quite a while. With the Madison Square Garden residency that we're doing, last night was our fifty-fifth consecutive sell-out show there in fifty-five months — it's really extraordinary! Since we're doing so many shows in a row at the same venue, we like to mix up the set list a little bit.
Sometimes we do songs we haven't done in a long time, and sometimes we put songs in that we've never done. And sometimes we have guest artists; last night we had Bryan Adams join us. A lot of times they come about at the last minute, so my job is to help coordinate that and make sure everything goes smoothly with the arrangements.
So let's say Joel brings a tune back to the set that you guys haven't played in a while. What is it that needs to get done to then arrange that song for the band?
I need to make sure that all the parts are distributed properly, that everything's being covered by somebody. We have great singers in the band and we have a lot of multi-instrumentalists, so I work that out and figure out who's going to do what. I'll run the rehearsal and listen carefully as we're playing it to make sure that everybody's got their parts correct. Then, if needed, during the show I'll cue the sections of the song as we play it.
"Billy turned these melodies into fantastic pop songs. But the structure of the melodies was always classical."
If we look at Billy Joel as an artist who has his roots in the lounge piano bar scene, it's remarkable to see how these songs — for piano and voice — can be adapted for arena shows and for Broadway. What is it about the material that makes it able to sustain these transitions in venue?
Well, the songs are just really well written. They're well crafted and well thought through and just brilliant songs. At the core of any arrangement, first there has to be a great song. And he's got lots of them; the catalog is just amazing. His songs survive the generations and they survive genre changes and they lend themselves nicely to different types of arrangements, even when other artists cover them. The strength of the material is in the core of the songs: great lyrics, great melodies, well structured songs.
I spoke to Joel about his love for Beethoven and classical music and he talked about the classical nature of his own songs, namely "Uptown Girl" and "The Longest Time." You've done classical arrangements of both for Spirio, Steinway's player piano.
On those two songs the melodies and chordal structures are very classical. About twenty years ago, he asked me to create a classical piano version of "For the Longest Time." So I sat down and started messing with it, and sure enough, it really lent itself perfectly to that genre. It works great in the format of a piano sonata. Then recently he asked me to try another piece with a simpler approach, and that's when I came up with the "Uptown Girl Sonatina."
Obviously, when Billy came up with these melodies he ended up turning them into fantastic pop songs. But the structure of the melodies was always classical, even though the world never heard it that way. So it's kind of a cool chance for the world to hear a different approach to those same melodies that everybody knows and loves.
A piano arrangement of a Billy Joel song faces a challenge because you have to realize both the piano part and the vocals. So how do you prioritize what gets included under ten fingers?

For the classical arrangments I don't really consider the piano part that's on the record. I start with just the vocal melody and the chordal structure. Then I take it apart and put it back together again in the style of a classical piano piece.
For the non-classical piano arrangements I focus on capturing the original character of the song. First I transcribe his exact piano parts and vocal melodies, then I find musical ways to combine them into a playable piano part that stays true to the original recording.

During a Madison Square Garden performance with the band, Billy Joel is playing piano and you're playing keyboard. How exactly do you back up a pianist as a keyboardist? What role do you serve?

Well, there are a lot of different parts that I cover. The piano part is a constant through most of the records, and obviously he plays that. But there are synth parts, organ parts, horn parts, string lines, sound effects, and all different kinds of synth colors that create textures to support what he's doing. So sometimes what I'm doing is related to the piano, but sometimes it's not.
There are a few songs where we play double piano. On "Don't Ask Me Why" we both play pianos and we play the interlude part together. On songs like "You May Be Right" and "My Life," he'll be playing acoustic piano and I'll be playing an electric piano, like a Rhodes or something like that. On "Uptown Girl" he stands up to sing and I play the piano parts. So my role varies from song to song to cover whatever's needed.
As a side note, on his Greatest Hits Volume III album, there was a bonus track called "Hey Girl." When we got into the studio to record it, much to my surprise, he says to me: "I'm just gonna sing today. You play piano." So we cut the track that way and I played piano. I figured when I went home he was going to replace it, but he didn't. He really liked what I did so he kept it. So I became one of only three piano players to ever play piano on a Billy Joel record besides him: Richard Tee, Ray Charles and myself.

That's good company.
Yes, it's an honor to be included on a short list of such great pianists. And it reminds me of the importance of spontaneity and always allowing room for a spontaneous performance. The same thing applies to when we are rehearsing for a show and I'm helping to put arrangements together. I'm very careful to leave the opportunity for spontaneity to happen naturally, because spontaneity is a big part of what Billy does.
I'm sure you saw that from watching the show. We never want to over-prepare. We want to keep that edge all the time. Billy loves that spontaneity and wants it to always be there. So my job also is to make sure that it doesn't become too fine-tuned of a machine, that there still remains that rock 'n' roll edge.

That's an excellent point. There was a period with rock and pop in the '80s where guys were literally locked into a beat — often with synths, though sometimes without! And it would give frontmen or even solos no room, just no room to breathe or to sort of get out of that box!

Right! And it can be sterile at times. With Billy, we're really up there performing. It's very much a live concert and it has that edge. And I think the crowd senses that we're really up there playing our hearts out. It's a lot of fun to do shows like that.

I mean, it doesn't look like you're not having a good time. Let's put it that way.

We're not faking it; we really are having fun!
DAVID ROSENTHAL ON HIS RECORDINGS OF BILLY JOEL SONGS FOR SPIRIO
" ' The Longest Time' Piano Sonata"
I made this song into a piano sonata using sonata-allegro form with exposition, development and recapitulation. I added an intro and an ending, which some of the pieces from that time period also had, and it really just worked perfectly. I arranged the piece with some very typical late Mozart / early Beethoven piano phrasings and added a development section. I wrote it out and played it for Billy. He absolutely loved it, but we never did anything with it. When I was approached by Steinway to do these recordings for Spirio, I thought, "Wait a minute. I got the perfect thing for this."
" 'Uptown Girl' Sonatina"
A few years back, at Billy's request I wrote a sonatina using the melodies from "Uptown Girl." He was looking for something basic that would require less skill to play, like a Clementi sonatina. So I played around with that for a while, added an Alberti bass, and sure enough, it really worked well! Billy really loved it, but again, we didn't have a way for the public to hear it, until now!
"Medley #1 - Angry Young Man, Stiletto, Italian Restaurant"
With Billy, I play keyboards and he plays piano. And once in a while, I get to play piano parts — which is kind of fun! Obviously, I'm a piano player as well as a keyboard player and piano was my point of entry. It came first, but I rarely get to perform on piano. So I was looking to create a flashy performance piece to play that had a lot of the signature, really cool, exciting piano parts in some of Billy's songs. So it starts with "Prelude" from "Prelude/Angry Young Man," then I added the piano break from "Stiletto," and then it transitions to excerpts from "Scenes from an Italian Restaurant" — all the flashy piano bits in that. Through trial and error I found ways to make transitions that made musical sense to go from one section to the other — and it just eventually became what it is now.
"Medley #2 - Miami 2017, Summer Highland Falls, Billy the Kid"
This medley consists of "Miami 2017," "Summer Highland Falls" and "The Ballad of Billy the Kid." Again, I tried to find some of the really cool piano moments and highlights that show off the great pianistic passages in these songs.
"Lullaby"
This is a beautiful song that brings tears to my eyes every time I listen to it. It's really just piano and vocal — though on the record there are string parts and a French horn — but the piano part is just so beautiful. Most of the vocal melody is already built into the piano part, so it naturally works well as a solo piano piece.
"She's Always A Woman"
I was able to weave together the arpeggiated guitar and piano parts that are on the record and combine the vocal melody into a playable piano part.
"Root Beer Rag"
This is just a really fun, flashy piece in the style of an old saloon-type rag, a ragtime piece. It's a lot of fun to play. It rounds out the selections here with a nice range of all the different kinds of piano parts and compositions Billy Joel has created over the course of his celebrated catalog.
Thank you! Your message has been sent. You will hear from us shortly.