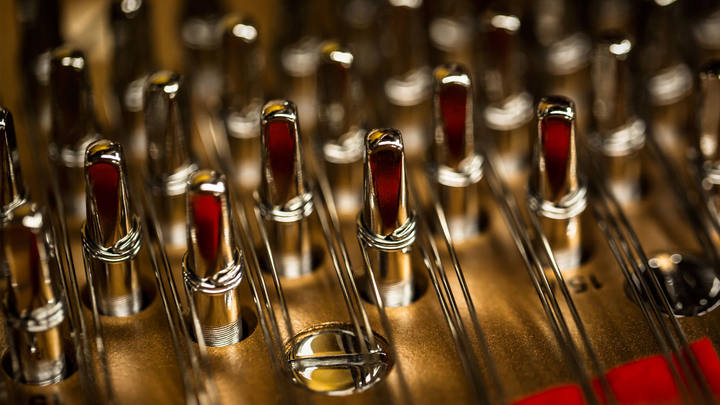 Pianos Maene ensures that your piano stays in peek condition, even after the delivery. We have a strong team consisting of experienced piano tuners and maintenance staff, who are active in all of Belgium. Many of them have gone through extensive international training, which includes training at the renowned Steinway & Sons in Hamburg. The most important concert halls in Belgium use our team for the maintenance and tuning of their instruments. The Bozar in Brussels, the Concert Building in Bruges, the Trade Fair in Ghent, The Flemish Opera in Ghent and Antwerp, ... are just a few of our references.
Tuning is important to guarantee the stability of the instrument. It is absolutely necessary to have your piano tuned and maintained at least once a year. By doing so, you increase the lifespan of the instrument considerably and the piano maintains its value a lot longer. We would even recommend tuning your piano twice a year, especially if you play daily or quite frequently. During a tuning session, the technician will be tuning your piano and executing a technical analysis of the instrument. If a repair or further maintenance is needed, we will deliver a quote without any obligation to act on it. More information regarding the maintenance and restoration of pianos can be found here.
Pianos that are not being tuned on a regular basis will cause the pitch of the instrument to drop. This makes it harder to retune the piano and increases the chances of the strings breaking.
In order to prevent this problem, we offer an extra service where we keep a file card on your instrument. When your piano needs another tuning session or maintenance, we will inform you of this. Customers are not obligated to act on this offer.
Our company has a total of ten tuning specialists who go out every day to tune and check the pianos of our customers. During the course of the year, our team tunes approximately 8500 pianos.
To make an appointment for tuning your piano, please call:
02 537 86 44 for Brussels, the Flemish part of Brabant and the Walloon provinces
051 49 18 13 for West-Flanders, East-Flanders, Antwerp and Limburg
Or click this link to request tuning online.
Your message has been sent successfully!