Your Steinway Investment
Times change and markets rise and fall – but for more than one and a half centuries each handmade Steinway instrument has increased in value.

Steinway pianos have established a history of legendary financial appreciation over the course of more than 160 years. Owning a Steinway piano is a rare opportunity to invest in beauty, craftsmanship, endurance, performance and joy.
A 50-year-old Steinway commands a price more than nine times its original cost. The best time to invest in a Steinway grand or upright piano is always the same: today.

That's because, when factory prices of new Steinway pianos increase, the value of existing Steinway pianos also rise. Here are some examples of historical price developments in the US market: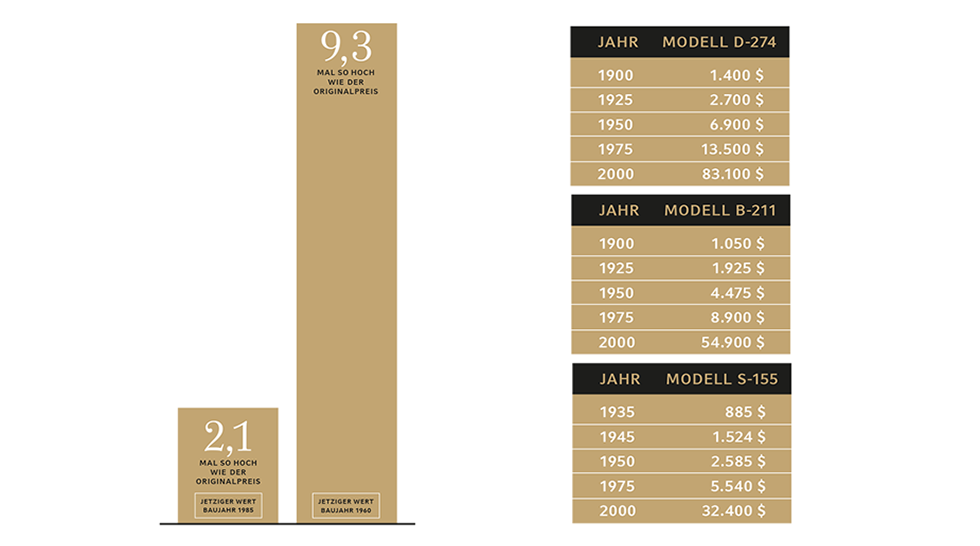 "A Steinway that is ten years old and in good condition normally sells for around 75% of the current retail price, which increases each year by about 4%."

Reuters, 2003
Thank you. Please click the button below to download the Investment Brochure PDF.
"Steinway pianos don't only set the benchmark in terms of sound, touch, quality craftsmanship – and beauty. However, in addition to all the musical pleasures, these masterpieces of craftsmanship are an exceptional investment that pays off in the long term."

Welt am Sonntag, 2011