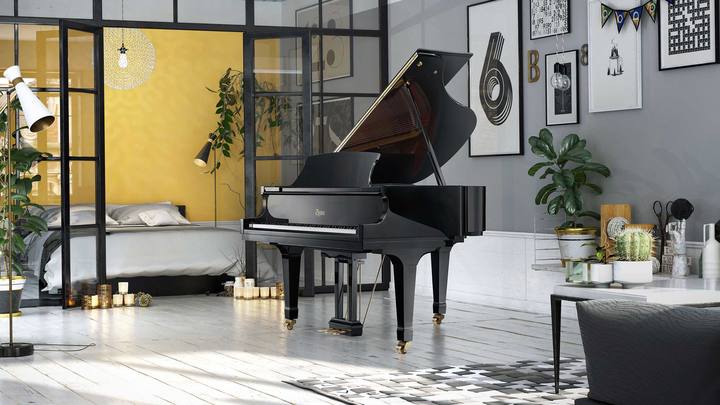 Your Boston
Whether dazzling an audience, furiously pounding keys in the practice room or merely letting your passion for music run free at home, a Boston designed by Steinway & Sons provides you with world-class tone and articulation.
Boston grand and upright pianos
Articulation. Precision. Elegance. You will recognise your instrument if it allows you to express your musical vision as if there were nothing between your fingers and the music in the air. Experience the possibilities by playing on this member of the Steinway family. Lovers of music as well as piano teachers and institutions with a medium-sized budget will always make an excellent decision by selecting a Boston grand or upright piano.
Boston designed by Steinway & Sons
Boston grand and upright pianos are ahead of comparable instruments in the mid-price range when it comes to tone qualities and possibilities because the expertise and developments of Steinway & Sons are always incorporated into their construction. These include the patented Octagrip™ pinblock and the typical Steinway duplex scale. Unsurprisingly, the outstanding quality of Boston grand and upright pianos continues to inspire a growing number of institutions and friends of music worldwide.
Surprising fullness of tone
Just the fullness of tone achieved with a Boston grand piano is sufficient evidence of its prowess. When you hear it, you gain the impression that you are in fact listening to a considerably larger instrument. The wider shape of the case results in a Boston grand piano of 178 cm length having the soundboard area of a typical grand piano 189 cm long – and you hear that immediately.
Noble wood, elegant shapes
Every soundboard in Boston grand and upright pianos is made from solid wood from the Sitka spruce, a noble material that possesses amazing resonance qualities. The boards are tapered towards the ends, which allows them to resonate much more freely. And the result? A beautiful, rich, sustained tone.
The piano exterior also enjoys use of unique wood – choose from walnut or mahogany if you are seeking an alternative to the classic black or white.
The Steinway Promise
Owning a true Steinway is a dream that can definitely come true, even if you decide today on a grand or upright piano from the Boston range. If you purchase a new Steinway within 10 years, we will credit you 100 per cent of the purchase price for your Boston model. We call that our 'Steinway Promise'.
Thank you! Your message has been sent. You will hear from us shortly.