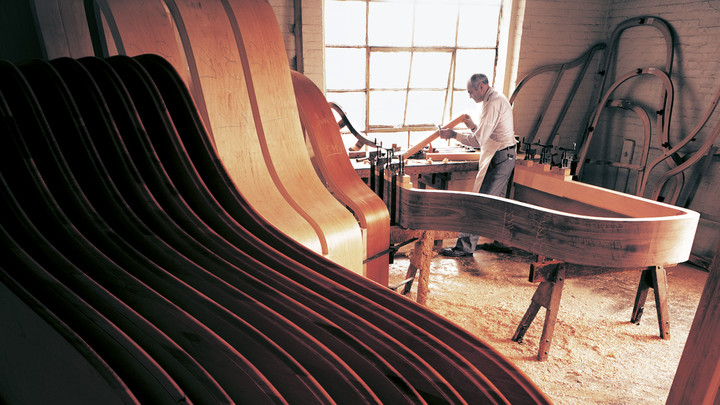 Steinway Restoration Center
Steinway restoration center
Steinway pianos and grand pianos are built in such a way as to retain their outstanding tonal and playing characteristics over generations. From Steinway & Sons' founding in 1853 until today, our valuable pianos are largely manufactured by hand.
This also naturally applies to our restoration center, in which older or antique pianos are lovingly restored. That is why it is located in the Steinway factory in Hamburg. Only in this way can you rest assured that original Steinway spare parts will be used exclusively, and your Steinway remains a Steinway!
You will find some examples of repair work we regularly perform below.


Replacement or repair of:
Soundboards
Soundposts
Cast-iron plates
Mechanism racks and parts such as hammers and whippens
Saiten und StimmwirbelStrings and tuning pegs
Damper systems with felt, heads, tangents
Pedal and lever systems
Keys with frame, key tops and felt
Case parts such as lids, music stands, fallboards, piano legs and lyres
Revarnishing of surfaces
Please note!
The replacement of structural elements such as the soundboard, soundposts, or the cast-iron plate with original Steinway parts can only be carried out in our restoration center at the Steinway factory in Hamburg, as they are not shipped to third parties.
Contact
Any Questions? Do not hesitate to call or send an e-mail to:
Hartwig Kalb
Steinway & Sons
Rondenbarg 10
22525 Hamburg

service@steinway.de
+49 - (0)40 - 85 391 106
The Steinway service department in Hamburg can answer a wide range of questions about your instrument. Our professional team is lead by Hartwig Kalb, who was worked as a piano builder for over 35 years at Steinway & Sons. Whether it is booking a maintenance date, renting an instrument, ordering spare parts, general questions about instrument care, tips for installation or the restoration of historical instruments – we are at your disposition.