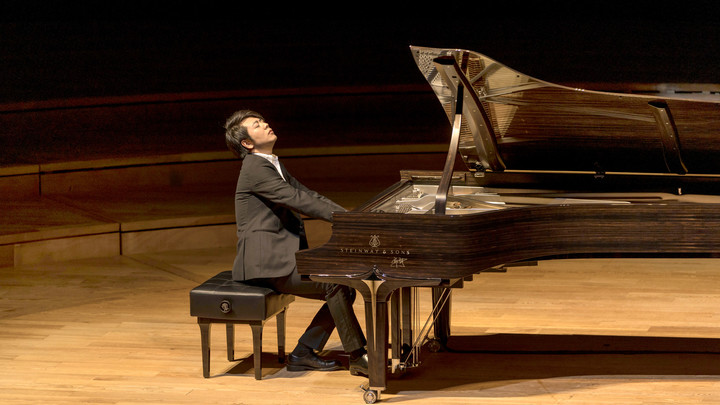 Lang Lang Black Diamond at the Philharmonie de Paris
A magical evening at the Philharmonie de Paris
Lang Lang Black Diamond — the sensational name of the new Limited Edition from Steinway & Sons — is matched only by its design. On April 16, 2019, the spectacular Steinway grand was unveiled at the Philharmonie de Paris, with 1600 invitation-only guests in attendance, none of whom will soon forget the elegant evening.
At first, the instrument was presented wrapped in the finest cashmere, revealing only its contours. The opening speaker, Ron Losby, Steinway President & CEO, was visibly moved and warmly welcomed the guests. Paris has been a part of Steinway history since the 1866 World's Fair, and no European capital seemed more perfect for such an event. Clement Caseau, Managing Director of Steinway France, described the creation and design of this extraordinary Limited Edition. Once the piano was revealed, it captivated the audience with its beauty and elegance.
And then, at last, the arrival of the global superstar: Lang Lang. As the first Steinway Artist to be involved in the development of a Steinway — in collaboration with lauded American furniture designer Dakota Jackson — Lang Lang was visibly proud to have created this 88 Model B and 8 Model D Limited Edition.
He enchanted the audience with an apt program of the pieces that had inspired him to play the piano as a child, from his new album "Piano Book", including Beethoven's "Für Elise" and Czerny's "The School of Velocity."
The Lang Lang Black Diamond Limited Edition is equipped with the latest technology from Steinway & Sons: Spirio | r. Guests were given a taste of this revolutionary player piano, capable of live performance capture, playback and editing — a revolutionary blend of artistry, craftsmanship and technology.
Dakota Jackson, who had previously designed two Limited Editions for Steinway & Sons, was on hand to entertain the audience and take them through the instrument's design elements.
After an hour and a half the show was over, but it will linger in the hearts of the guests and Steinway employees for a long time.