Armonia Limited Edition by Baldi
A NEW INSPIRATION FOR YOUR HOME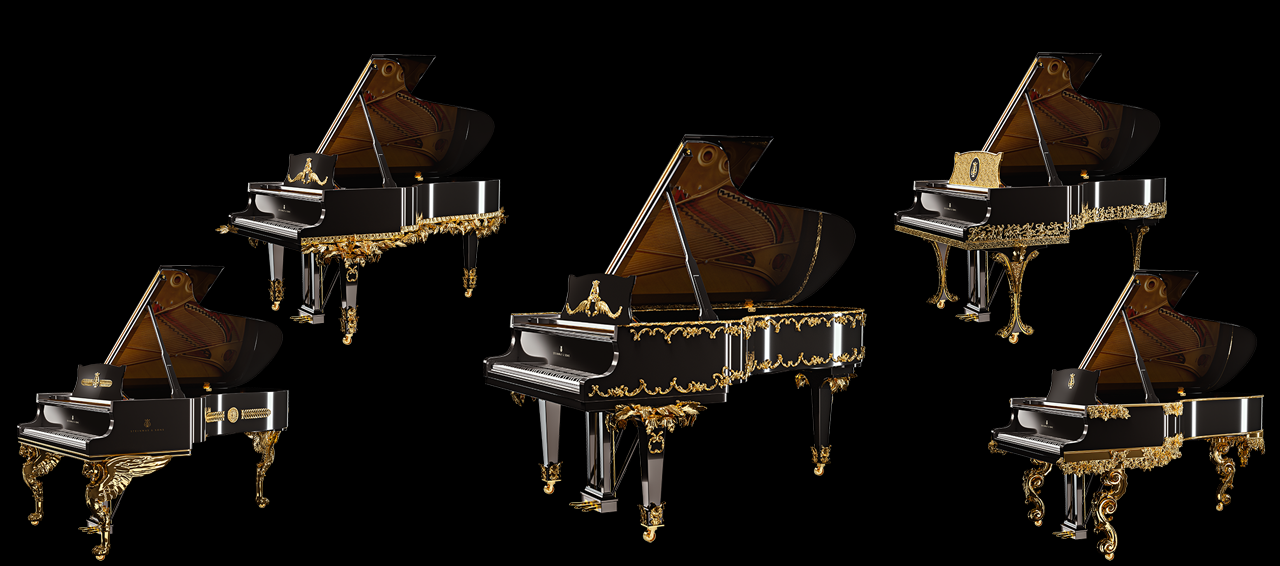 A PRECIOUS INSPIRATION FOR YOUR HOME
ARMONIA LIMITED EDITION BY BALDI is the result of an extraordinary collaboration between Steinway & Sons and Baldi Home Jewels, renowned Italian manufacturer of luxury furniture and decorative accessories. Music lovers and Steinway fans who look for something extraordinary will be inspired by this new Limited Edition.
The series is characterised by precious signature bronzes from the Baldi archives. Carefully placed on the classical ebonised high polish models O-180 and B-211 at the Baldi workshop in Florence, the bronzes are all lost-wax casted and hand-chiseled. The self-built tools created ad hoc by the artisans decorate, enhance and highlight the shapes of the bronzes, creating a powerful sensation of depth.
ARMONIA LIMITED EDITION BY BALDI is offered in five different piano designs, featuring such melodious names as: Acanto, Impero, Muse, Richelieu, Sherazad
9 different applications
The future owner of an ARMONIA LIMITED EDITION BY BALDI can furthermore choose between nine different bronze applications to meet the individual taste.
Furthermore, each Limited Edition will be personalised by an elegant, individual medallion in the inner - rim - to underline once more that this instrument is tailor-made and very unique.
ARMONIA & SPIRIO
If you like to be entertained by performances from the world's greatest Steinway Artists, you might prefer your ARMONIA LIMITED EDITION BY BALDI with STEINWAY SPIRIO, our high-resolution player piano. A masterpiece of precision engineering, technology and artistry, Spirio provides an unrivalled musical experience, indistinguishable from a live performance. With the touch of an iPad, Spirio brings your ARMONIA LIMITED EDITION BY BALDI to life. Lean back, relax and enjoy life's greatest musical moments.
Joyful Moments
Whether you play the piano or not, ARMONIA LIMITED EDITION BY BALDI will offer you inspiration and joy. Limited to ten grand pianos per design, it will enrich your home with a precious design and the incomparable sound that only a handmade Steinway can bring.
Behind the scenes of Baldi